Tragedy in Careli!
/Maia Giorgadze/
That happens 1997 years 14 march.
At the 6:00 AM my husbend was come from job and wake up all family. "- Quik come inside, look what was flying." We all (I, my husbend and childrens and guest) come inside and see clever shape blue light, which was flying in the sky. I can't deliver its color because it was strange. Object was slowly flying and manoeuvre. That time UFO emit blue beam: Its emit one pipe shape beam, next "suck in" it. After some tame it's emit second beam.... It has only tree beam. How my husbend told me it was from us at 25 Km. after 15 minute it's flying Cxinvali direction.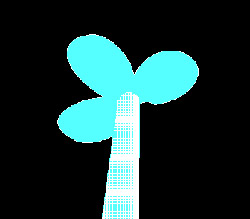 After that we heard cry. I undestand what soem bed thing was happen. My husbend drive there. And how next we heard 22 year old men (Gocha Svanidze) suicide, he jump from 5-th floor. How hi mother tell he suddenly jump from bed and run into balcony direction. His mother filling something beds and follows back, when she comes at balcony he already made step. Hard to confirm, but I think, what that cases are get into touch. At the 19 march that object was come again 8:30 AM over his home - That was Gogas funeral day.

I can tell you one more thing, what Gochas familys member tells there wasn't any cause for suicide.